Televero Health Is a Digital Virtual Psychiatry and Counseling Practice Serving Texas Patients and Families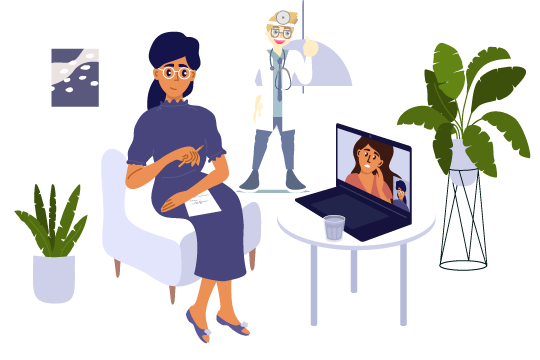 We change the way people get help by providing remote access to licensed psychiatric and psychotherapy doctors, nurses, and counselors.
Sessions with our staff are conducted 100% online and are available through our simple to use digital virtual platform.
You can connect with your provider from any computer, tablet or smartphone, regardless of where you are physically located.
Appointments Available from 8am-8pm Mon – Sat
Click the button below to get started or scroll down for more instructions.
Get Started >>
New Patient Information – Online Process
Please read the instructions below.
No printer or faxing is required.
Once you have completed these steps we will verify your insurance and usually schedule your first appointment within one business day.
Two Easy Steps to Your First Appointment
Step 1: About 2 minutes to complete – New Patient Information and Credit Card Verification – Click the button below to complete our secure encrypted new patient information form on your computer, tablet, or smartphone.
You will be required to upload photos of the front and back of your insurance card and your photo ID to verify your insurance and identity.
iPhone users: You will be able to take the picture when asked to upload.
Android Users: Please take pictures of these before you start so you can easily upload them as a file when asked to upload.
At the end of the form, you will need to place a credit or debit card on file. Even though we take insurance, this is required for two reasons:
To reserve your scheduled appointment slot and

To take care of any copays, coinsurance, self-pay, or no-show fees due at the time of your appointment.
You will initially be charged $1 to verify your card.
No further charges will be made to your credit card until a.) you have been informed of any further costs of services and b.) you have agreed to be scheduled.
Televero Health will assist you to help ensure you get the most out of the coverage your insurance policy allows for behavioral health services. However, please note that you are responsible for payment of any amounts your insurance policy does not cover.
All fees are processed directly through Square which is a world-recognized trusted and secure online payment processor that adheres to HIPAA guidelines.
Once you have finished you will automatically be taken to Step 2.
Step 2: About 10 minutes to complete – Online behavioral health self-assessment – This required self-assessment will provide both you and our professionals with the crucial information they need prior to your first visit. This allows us to schedule your appointment quickly and address your needs faster.
At anytime during the process you can save your form and return to complete it later.
Get Started >>